Latest News
Psychology Graduate Programs Remote Open House for Underrepresented Applicants
Friday, November 10, 3-5 p.m.
Link: https://appstate.zoom.us/my/elliottta
---
PsyD Program Remote Open House Meetings
Wednesday, October 11, 6-7:30 p.m.
Link: https://appstate.zoom.us/j/95382602422?pwd=KzhobVdsSFpROXZaUDFQY0xMeEZJUT09
Tuesday, November 7, 6-7:30 p.m.
Link: https://appstate.zoom.us/j/96756621866?pwd=eGc1NHRrcnczdGdFSUlPTnJsa1MvQT09https://www.appstate.edu/academics/graduate/id/doctor-of-psychology
---
Kelly Davis, a third year student in the PsyD program, was the first place winner in Appalachian State University's eleventh annual "3 Minute Thesis (3MT)" competition. For the competition, graduate students explain their research or scholarly/creative projects in jargon-free language to a general "lay" audience in three minutes with the help of only one static slide. Kelly will represent Appalachian State at the regional competition held at the annual Conference of Southern Graduate Schools in Tampa, Florida in March 2023. Congratulations, Kelly!
---
Emma Walker, a member of our inaugural cohort, was elected to serve as a student officer for ABCT's Dissemination and Implementation Special Interest group. We appreciate Emma's commitment to our program, to the field, and to the dissemination of evidence-based practice to rural communities!
---
The Doctoral Program in Clinical Psychology was nominated for the Association for Behavioral and Cognitive Therapies (ABCT) Outstanding Training Program Award by three of our former Master's program graduates, Dr. Laura Eddy, Dr. Dane Hilton, and Dr. Anne Stevens. This award "is given to a training program that has made a significant contribution to training behavior therapists and/or promoting behavior therapy. Recent recipients of this award include the Doctoral Program in Clinical Psychology at SUNY Albany, Massachusetts General Hospital/Harvard Medical School Predoctoral Internship in Clinical Psychology, the University of Nebraska-Lincoln Clinical Psychology Training Program, the Charleston Consortium Psychology Internship Training Program, Clinical Science Ph.D. Program at Virginia Polytechnic Institute & State University, and Florida State University's Clinical Psychology Ph.D. program." Although we did not receive the award this year, we are humbled by the nomination and appreciate our graduates' support!
Doctoral Program in Clinical Psychology (Psy.D.)
Department of Psychology, Appalachian State University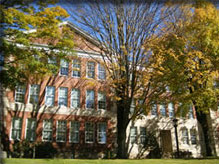 The Psy.D. in Clinical Psychology is an applied practice degree in health service psychology, and the goal of our training program is to develop psychologists who are well-rounded practitioners trained in and committed to evidence-based professional practice. In addition, graduates will demonstrate competency in scientific inquiry and evaluation. Applications for the fall 2024 cohort will be reviewed starting December 1, 2023.
The Psy.D. program at Appalachian State specifically aims to train students to serve rural populations, an important mission given the state and national needs to provide care to this underserved group which coincides with our history and heritage as a leading university in Appalachia. Effective service provision to rural populations inherently requires substantial training in applied research skills, given that there is relatively poor guidance for culturally-appropriate interventions. Consultation and evaluation will be an integral part of both training and future professional pursuits. As such, the program will follow a model of training that promotes application of the foundational knowledge of the science of psychology to clinical practice, and the development of interpersonal, applied clinical, and scientific skills for use in implementing evidence-based practice.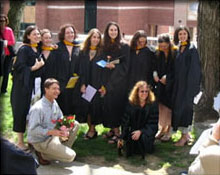 Applicants entering the program with a Bachelor's degree will be required to complete the curriculum for a Master of Arts degree which will be earned as part of the Psy.D. program. The Psy.D. curriculum will require two advanced "capstone" experiences—a doctoral dissertation and a pre-doctoral internship. The dissertation serves to document the student's mastery of scientific skills while the pre-doctoral internship serves to document the student's ability to integrate and apply discipline-specific knowledge and professional competencies in a clinical setting approved by the program faculty. Upon completion of the program, graduates will be eligible to apply for licensure as psychologists and health service providers. Psychologists trained within the Psy.D. model will be qualified to establish careers in the private and public sectors, including in clinics, hospitals, community agencies, university counseling centers, public schools, and private practice. They may also serve as clinical supervisors and may teach in colleges and universities.
The Appalachian State Psy.D. program will maintain a low student-faculty ratio so that admitted students can receive close individual mentoring from faculty members. Individual mentoring will allow students to pursue clinical and research experience that best matches their interests and allows them to pursue the career path they seek. We anticipate admitting approximately 6 students per year, and graduate stipend support will be available for all incoming graduate students.
The terminal M.A. program in Clinical Psychology will no longer admit students who are only interested in an M.A. degree.
Appalachian State University has a history of providing a graduate program that prepared practicing M.A.-level psychologists for nearly 50 years. There are 8 faculty who are Licensed as Health Service Provider Psychologists in North Carolina who serve as core faculty in the Psy.D. program. In addition, the Department includes 28 other full-time faculty, many of whom contribute to existing graduate programs in Experimental, School, and Industrial/Organizational Psychology, as well as the Psy.D. program. The graduate program has an established Psychology Clinic for therapy and assessment training, staffed by Clinical graduate students and a full-time Director. The graduate program also has long-standing practicum sites arranged for graduate students including the Counseling and Psychological Services Center, several regional school mental health programs (Assessment, Support, & Counseling Centers), community health center (an integrated care placement), and the Psychology Clinic, among other placement options. The graduate curriculum provides a strong blend of applied and scientific training, and requires a three-year sequence of supervised practicum training.
Accreditation
The Doctor of Psychology (Psy.D.) program has been approved by the Southern Association of Colleges and Schools Commission on Colleges.
The Doctor of Psychology (Psy.D.) program is currently not accredited by the American Psychological Association (APA). The program is, however, designed to satisfy APA criteria. We submitted a self-study to APA for "Accreditation on Contingency Status" consideration. We were approved for a site visit, which will be scheduled spring 2024.
APA accreditation is designed so that new doctoral programs can apply, and possibly achieve accreditation for the first class of program graduates, which will be the goal for this new Psy.D. program at Appalachian State University. We cannot guarantee that accreditation will be achieved for the first graduates, but will make every effort to be successful toward that goal. Graduation from a non-accredited program may impact eligibility for licensure in the state in which the student intends to practice. All applicants should investigate licensure requirements of the state in which they intend to practice.
More information about APA accreditation:
Website: http://www.apa.org/ed/accreditation/
Office of Program Consultation and Accreditation
750 First St, NE
Washington, DC 20002-4242
Telephone: (202) 336-5979
TDD/TTY: (202) 336-6123
Fax: (202) 336-5978
The Psy.D. program will:
Provide training in empirically supported and evidence-based practices for the direct and indirect delivery of behavioral health services.
Address the demand for doctoral-level psychologists in the state of North Carolina, especially in underserved rural areas.
Support the North Carolina western region through building the capacity for mental and behavioral health services for the region as well as through outreach, research, and collaboration for economic development.
Support the mission of the Psychology Department, Appalachian State University, and the University of North Carolina System.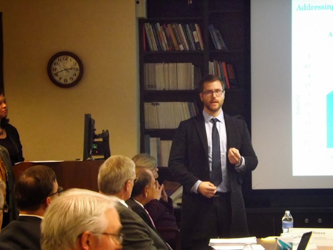 Expected Career Outcomes
The Psy.D. program at Appalachian State University is designed to prepare students for practice as a licensed psychologist- health service provider serving rural and underserved populations. The role of psychologist- health service providers in rural areas can be quite varied, and the breadth of the curriculum and experiences in the program reflect this reality. Graduates of the program who become licensed might expected to engage in a number of activities including (but not limited to): direct service provision to consumers in community mental health centers, hospitals/medical settings/federally qualified health centers in both inpatient and outpatient settings, private individual/group practices, schools, and/or correctional settings; professional consultation with community organizations, including conducting needs assessments, program development and evaluation, and staff training and development; teaching, supervision, and other educational activities; and organizational leadership, including administrative and managerial roles.